6 Common Mistakes any Talent in Entertainment Should Avoid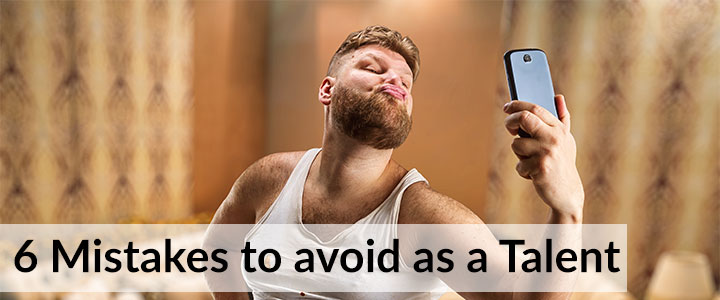 As a newbie entertainer, you always look for how to do things or top 10 steps to get jobs in this competitive market. But have you ever thought about stopping for a while and looking back at what you have done WRONG? If yes, then you are definitely on the right track. Half way to your successful dream job is to acknowledge your mistakes and find a way to avoid doing them again. At the end of the day, it is because of these mistakes you are blowing away huge opportunities of being seen for an audition or booked for a job so how about we set your record straight!
After having a friendly chat with a variety of casting directors and producers for different genres of TV programs, they have tipped us with valuable information about day-to-day live mistakes performers usually do. Whether you are a TV presenter, a dancer, a model, or even an actor, the following mistakes could have happened to you. Unfortunately, a faulty behaviour may transform into a usual activity which we are not aware of. Read carefully and try to check them off your performance. Here are the 6 most frequent mistakes artists usually do:
#1 Selfies instead of Headshots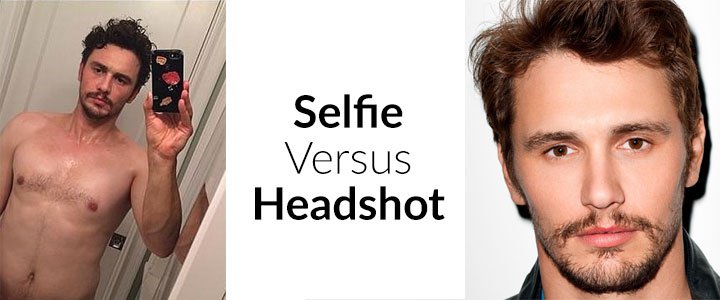 Your headshot is your first pass through the door. It is also your business card that you leave to be called. Sometimes your headshot is all what it takes to get a job. It is absolutely ridiculous how you get all worked up when it comes to taking your actual passport photo which will get you no jobs. But when it comes to upload a headshot on your profile, it's totally OK to take a selfie instead. NO, it is not ok!!! Sometimes casting directors have to look through hundreds of headshots to shortlist only 10 artists. So you can see how important a good headshot is. Above you can see an example of a headshot and a selfie for James Franco. You decide which one YOU most likely would hire for a job. For more details about the headshot, check our headshot guide.
#2 Home video instead of a showreel
When it comes to showreels, you do not want the directors to scroll through your film. That's the worst that could happen. 10 years ago a self-tape or simple showreel would have been ok. Now there is high expectations to watch the part when you deliver dialogue, contribute to a scene and then make a decision as to whether you are right for a particular role. So visuals should be clear, materials have to be collected and edited, sounds should be carefully chosen and added. If you have the skills to do it, you can save a lot of money and get professional showreel. But please do not experiment on the expense of your career. For more details about showreels, check our showreel guide.
#3 Unprepared for casting instead of prepared
Believe it or not coming unprepared to the casting is the most common mistake performers do. Reading the script and knowing what the product (in a commercial casting) is very essential to your first impression which might land you a job. At the same time, you should not over-rehearse your dialogue that you can't take direction in the room. Another aspect of being prepared is to have a portable wardrobe. Professionals always keep a bag in the trunk of the car with several wardrobe choices suited to the types of roles for which they are most likely called. For example: casual lifestyle, fitness, corporate, or even a bathrobe. The best way to approach a casting is to do the prep work and come into studio relaxed and open minded to whatever the direction is.
#4 Forwarding resume instead of writing a new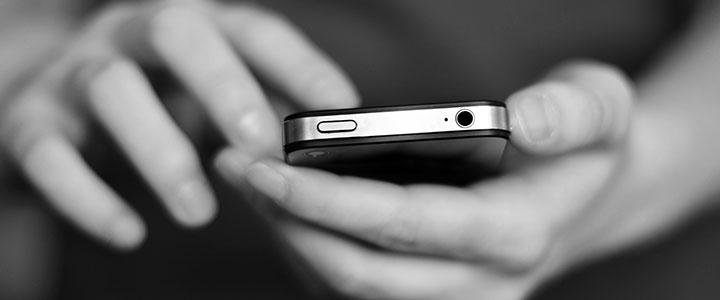 This is how your subject line shows in employers' inbox when forwarding:
Fwd: fwd: fwd: fwd: fwd: fwd: fwd: My resume
It only shows a lack of effort and enthusiasm. If you are forwarding your CV and pictures to an employer, make sure you remove any trace that it has been forwarded to anyone else previously. The body of your email should also be forward free. We all know how stressful and time consuming this process can be but for your own good, spend the extra time and effort to personalize every letter for each job you apply for. It will absolutely make a huge difference to the quality of your applications. Try it and see.
#5 Becoming offended by feedback instead of embracing it
Many entertainers take feedback on their performance as an insult. When you are given any type of comment or advice, embrace it with a smile. This criticism might actually improve your act the next time. Your presentation might be missing the one thing the casting team is looking for. It is good to know what you messed up so next time you won't. Be thankful and ask to be corrected.
#6 Not cleaning your social profiles before an audition for a lead or featured role
We all lead our different personal lives. Sadly, your personal life activities interfere in your professional. So whatever you post on social media might become a reason for getting or losing a job. Be careful what you post because some employers like to do their homework in googling anyone they want to hire. You will represent them and become their image.
Make updating your online profiles on a regular basis a part of your working life. Set aside a day in the month to do some "clean-up".
The best thing you can do to assess your performance is to look at your own materials and say "Would I employ me?" Put yourself into the position of a casting director and think about the things you would want to see in a talent. Performers who book the most work are those that put time and energy into their overall profile and activities to make them look great so be one.

Always remember final decisions aren't necessarily determined by 'the audition', a whole lot of other factors come into play such as facial structure, height, character descriptions, chemistry with another artist. So you can always work on correcting your mistakes but at the same time be the one lucky artist that fit the profile they need. Good luck.
If you've got any comments or feedback on the above, please feel free to share your thoughts.